The Not-So-Secret Lives of Mosquitos and Muskrats is the second episode of Season 2. It first aired on March 1st, 2015.
Overview
Lindy and her friends become outcasts when their fellow Muskrats learn Lindy went on a date with a student from their arch rival, the Mikita Mosquitoes. Meanwhile, Garrett starts to freak out when he realizes he's the only one of the five who hasn't experienced a first kiss.
Story
Spoilers Below
At a pep rally during a basketball game between Ditka High and their rivals the MIKITA High Mosquitos, the two pep squads start taunting each other, which evolves into a competition over who has more school spirit, and Lindy gets quite hysterical over it.
Jasmine leads the rally, while Garrett who is supposed to be playing the cymbals is too busy half-listening to something on his computer tablet. At the end of the first half of the game, Lindy starts to have feelings for a boy from that school named Jake, just before the opening theme begins.

After the game, the Fab 5 discuss their big win over the Mosquitoes, and Logan is convinced that the coach, who is also the woodshop teacher is guaranteed to give him an easy passing grade over a bookshelf project because of this win. During Lindy's discussion of whether or not Jake has ever had a girlfriend, Garrett is exposed for not having a first kiss. Originally he insists Delia kissed him in 2nd grade, however, Delia says they just bumped heads, and her real first kiss was with Rick Fugler, a boy she met at summer camp. She even teases him over it with Lindy, and Jasmine. At Ditka High, Logan is trying to seek an easy grade in woodshop, first by trying to buy another student's project, and next by trying to kiss up to the coach. Eventually, he talks him into letting him make nothing but a cutting board.

In Rumble Juice, Lindy is trying to do her homework alone, which gets the attention of Betty LeBow. Just then Jake from Mikita High School enters Rumble Juice in order to meet Lindy. Though both are anxious to see one another, they realize they can't be seen together in their respected hangouts, because they are so close to their high schools. Lindy decides to set up a meeting place for the two of them in "neutral territory," which in this case is the Lincoln Park Zoo. Overhearing their conversation, Betty decides to blackmail Lindy into ordering more smoothies in order to prevent her from revealing their relationship.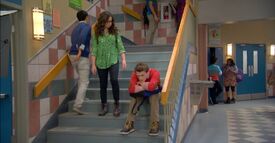 In the hallways of Ditka High, Delia walks down the stairs and notices Garrett sitting down in an almost fetal position. When she finds out that Garrett is still troubled over not having his first kiss, Delia starts to feel bad for him, and offers to be his first. He smiles and even considers kissing her in the hall, until she says "come to Mama." Convinced the mood for the kiss isn't right, he postpones her offer and rushes to class.
In shop class, Logan sneaks a store-bought cutting board out of his backpack and pretends to sand it. The teacher is quite impressed with his work. But when the relationship between Lindy and Jake is discovered by others at Ditka High School she becomes an outcast, which Jasmine exposes on her cell phone. Jasmine realizes her status as vice president of the pep squad will be in jeopardy if Lindy keeps seeing Jake, but Delia seems more supportive of her. Later at home in the Watson basement, Garrett arrives at the house and asks him for advice on how to kiss a girl, which makes him uncomfortable until he reveals that Delia is the girl who offered to give him his first kiss.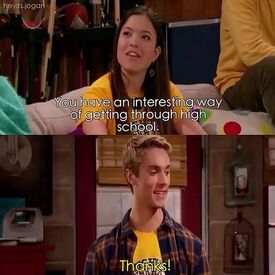 As if things aren't going bad enough for the Watson twins, the revelation of Lindy's relationship leads to Logan getting failing grades in shop class. When Logan reveals that he thought his grade was due to the fact that he bought it at a store, his coach lowers his grade from an "F" to an "F minus." When Logan seems perplexed about the existence of such a grade, the coach actually gives him a "G," and even threatens not only to give him an "H," but to go through the rest of the alphabet for failing grades. After school, Logan arrives at Rumble Juice to meet an already depressed Lindy, and blames her over his bad grade. Lindy tries to defend her actions, and insists that his grades are because of his laziness, but he reveals that his grades wouldn't be as bad if she hadn't been seeing Jake, whom Logan refuses to address by name and instead refers to him as "The Mosquito." Betty sees Lindy in her funk, and reveals that she dated a man in the Merchant Marines, became an outcast among her fellow coast guard sailors for doing so, and regrettably dumped him. She urges Lindy not to give into peer pressure like she did, and go out with Jake if she wants to.
Later at Rumble Juice, Garrett approaches Delia without the rest of the gang. He gets dressed up in a suit for the occasion and gives her flowers, something that she said was sweet, then smiled and blushed. Just before they do, he tries to set the mood with some music, and gets Betty to play it on the trombone. Unfortunately, Betty can only play "Comin' Round the Mountain," but they go through with it anyway. They almost kiss, but when Garrett mentions the fact that they don't have genuine romantic feelings for one another, Delia told Garrett he should have his first kiss with someone who he really likes, something he fears may never happen. Delia told Garrett that any girl would be lucky to date him. Garrett thanks her for her compliment and smiled at Delia just before they hugged, which he viewed as being almost as good as his first kiss.

At another pep rally, the students at Ditka High cheer for their school, but jeer at Lindy. Lindy makes a speech urging the kids at school not to overreact to the fact that the boy she fell for is from another school. She realizes that in a decade the school they went to won't be as important, and ridicules any adults who are still cheering for their old high school teams. Jasmine decides to support Lindy's decision to follow her heart and go out with Jake, then Delia, and then Logan, who tries to talk Garrett into joining him for support, but is once again too busy half-listening to the music on his computer tablet and half playing the cymbals. As Lindy is about to finish her speech, her cell phone rings, and she completely changes her tune, insulting the Mikita Mosquitos. Jasmine walks away with Lindy realizing that Jake had dumped her in a text message.
On a porch at the Watson household, Lindy, Jasmine, and Delia discuss Lindy's unceremonious dumping by Jake and then talk about Delia's plans to give Garrett his first kiss. Delia tells the other girls she didn't go through with it because she wanted his first kiss to be with someone special. The discussion leads to the rest of the girls talking about their own first kisses. The episode ends at Rumble Juice with Betty drafting Logan and Garrett into joining her band with her on the trombone, Logan on the drums and percussion, and Garrett on the cymbals.
Cast
Main Cast
Recurring Cast
Guest Cast
Michael Grant as Jake
Jerry Kernion as Coach Beecroft
Trivia
This is a Valentines Day themed episode. It's also the first Valentines Day themed episode of the show, the second being The Rescuers that seemed to be a Valentines day episode in the UK
This episode was set to air February 22 but got moved because of the Oscars.
The cast had their live taping for this episode on December 16th, 2014.[1]
International Premieres
June 27, 2015 (Poland)
July 21, 2015 (Latin America and Brazil)
Memorable Quotes
Lindy:
Hi.
Jake: Hi.
Lindy: We've got more.

Jake:
Yes you do.
Lindy:
You know whats the best part about that game was? Rubbing their noses in it. Especially that obnoxious mosquito guy.
Jasmine: He was the worst.
Delia: Yeah, what a jerk.
Lindy: I feel sorry for his girlfriend, although a guy like that probably doesn't have a girlfriend right? [waiting for a response] Anybody? Want to weigh in on the girlfriend or not?
Jasmine: Not. Can you imagine anyone wanting to kiss that?
Logan: Be hard, with that huge nose.

Lindy:
It's removable you know?
Jake: Hi
Lindy: Hi. What are you doing here?
Jake: I had to see you.
Lindy: This is muskrat territory.
Jake: I don't care, had to take the chance. Can I sit?
Lindy: Sure. But not there. There. [Jake Sits and turns around to look at Lindy] Turn around, no eye contact.
Jake: I can't stop thinking about you.
Betty: I don't even know you.
Jake: No, I'm talking to her.
Betty: Then why are you looking at me?
Lindy: Betty, it's complicated
Betty: What is it?
Lindy: So, you were thinking about me? Let's pick it up from here.
Jake: I can't stop thinking about you. Have you been thinking about me?
Lindy: Kinda. Yesterday, I watched a documentary about mosquitoes. Do you know that they mate for life? It's only ten days, but it's so romantic.
Jake: I'm Jake
Lindy: I'm Lindy. Now, get outta here.
Jake: What?
Lindy: My friends could be here any minute.
Jake: I have to see you again. How about we meet at the juice bar on my side?
Lindy: Jumble Juice? Then your friends could see me. It has to be on neutral territory. How about Lincoln Park Zoo at 4:00?
Jake: See you there.
Lindy: Betty, I don't know what to do.
Betty: Whenever I feel like the world hates me, I start by ordering four smoothies
Gallery
| | |
| --- | --- |
| | To view the The Not-So-Secret Lives of Mosquitos and Muskrats gallery, click here. |
Video Gallery
| | |
| --- | --- |
| | To view the The Not-So-Secret Lives of Mosquitos and Muskrats video gallery, click here. |
References