Logan and Keith is the friendship pairing between Logan Watson and Keith Edwards. They first met in Lindy and Logan's Brrrrthday at a night club when Logan filled in for Keith by playing drums when he couldn't make the concert his band were planning to play and they became good friends. Logan revealed in that episode that Keith insipred him to be a drummer and was revealed to be his biggest fan. In The Rescuers, Logan and Keith are shown to still be close and Logan asks Keith for help by performing with his band, The Wheasles, at the benefit concert he and his friends are planning to throw. Keith agrees to help Logan, only to tell him that the band broke up the night before.
Other Names
Edit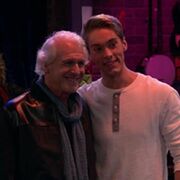 Logan was revealed to be Keith's biggest fan
Logan said that Keith was his insperation to be a drummer
Logan was listening to Keith's music
Logan filled in for Keith as he couldn't attend the concert, because of the snow storm
Keith walked over to Logan and wanted to take a picture with him
Logan was starstruck when Keith spoke with him
They had their picture taken together
They were playing the drums together at the end of the episode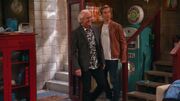 Logan reveals he and Keith have become close friends
Logan says that Keith has been giving him drums lessons, whilst Logan in return, has helped Keith find his glasses
Keith turns up to Logan's (and Lindy's) house and Logan answers the door when Keith knocks
Logan can understand what Keith is saying, whilst Lindy can't.
Keith apologises to Logan (and Lindy) when he tells them The Wheasels broke up the night before
Keith inspires Logan to form a band.
SimilaritiesEdit
They're both drummers
They both have light coloured hair
They're both laid back
DifferencesEdit
Logan is a teenager, whilst Keith is an adult
Keith was part of a band, whilst Logan is part of a band.
Logan has dirty blonde hair, whilst Keith has grey hair
Keith has brown eyes, whilst Logan has blue eyes
Logan is American whilst Keith is British
They first met in Lindy and Logan's Brrrrthday.
Logan is a huge fan of Keith's band, The Wheasles and is his biggest fan.
Keith inspired Logan to become a drummer
They last interacted in The Rescuers.
Ad blocker interference detected!
Wikia is a free-to-use site that makes money from advertising. We have a modified experience for viewers using ad blockers

Wikia is not accessible if you've made further modifications. Remove the custom ad blocker rule(s) and the page will load as expected.