"
I'm just looking out for my brother. I've always helped him.
"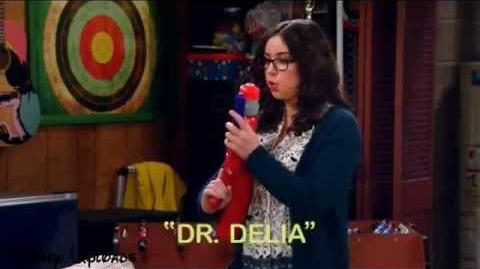 "Lindy & Logan Get Psyched!" is the fourth episode in Season 2 of I Didn't Do It. It premiered on March 15, 2015, and is the 24th episode overall.
Overview
When Delia takes an 'Intro to Psychology' class, Lindy and Logan become her first patients. In the meantime, Jasmine joins Garrett's Math Squad and gives the group of quirky math geniuses a confidence makeover that leads to a revolt.
Story
Spoilers Below
Lindy has been constantly helping Logan their whole life, specifically studying for tests. After Delia, who decided to "help" people from her knowledge in her psychology class, confronts her and tells her she needs to lay off, she decides to stop altogether. Lindy starts to refuse to help Logan with anything and he gives her the silent treatment at first. Logan soon starts to push her for help resulting in her giving in to only be blasted with water by Delia. Delia tells Lindy to let him study on his own and she does as Delia follows her with a water gun in hand. In the end, she was proud of Logan for studying on his own and getting a C-plus on his test.

Meanwhile, Jasmine convinces Garrett to let her join the Math team, but is warned that they are all boys and not the toughest. Jasmine's first meeting becomes difficult when her study partner, Norman can't seem to properly talk to her. After finally getting him to talk to her, she decided to help him boost his confidence up. The next day, she comes in and introduce the new Norman. Seeing his transformation, the rest of the team (beside Garrett) want Jasmine's confidence lessons as well. At the next meeting, Jasmine walks into to see just Garrett in the room. He tells that after the lessons all the entire team decided to quit and also no longer has an interest in math. He becomes upset with her, but later understands why she did. Garrett forgives her saying that it wasn't for meeting her in 3rd grade, he won't have any confidence at all. Jasmine also makes it up to him by getting him a new math team which consist of all girls.
Cast
Main cast
Recurring Cast
Guest Cast
Elijah Nelson as Norman Gorman
Mandalynn Carlson as Paula
Quotes
TBA
Trivia
Garrett is shown to be on the "Math Squad".

The Math Squad now consists of all girls, besides Garrett.

This episode is another one about Lindy and Logan's relationship.
This episode shows more interaction between Jasmine and Garrett.
Lindy is older then Logan because she said " When I came out when I was born I went back to get Logan"
Gallery
| | |
| --- | --- |
| | To view the Lindy & Logan Get Psyched! gallery, click here. |
References