"
Lindy, Logan. You and your friends had a party while we were gone?
"

— The first spoken line of the show
I Didn't Do It is an American comedy television series that premiered on January 17, 2014 on Disney Channel. The series stars Olivia Holt and Austin North. A pilot for the series was announced November 2012 with production of the pilot filmed in January 2013. The series was picked up on June 18, 2013. Production of the series started in the summer of 2013. The series was created by Todd Himmel and Josh Silverstein.
Plot
In the series, ultra-competitive fraternal twins Lindy and Logan Watson, together with their three best friends navigate their freshman year of high school. Each episode begins with a comedic 'what just happened?' situation as Lindy and Logan each spin their own vivid account of a certain occurrence or predicament. The series will utilize flashback scenes to tell the siblings' unique stories.[1]
Cast
Trivia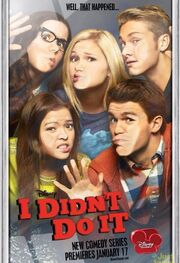 References